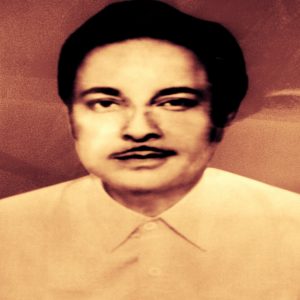 Dilip Mukhopadhyay, the founder of Brischick Natya Sanstha was a History teacher who dreamt about of a Theatre organization and to make his dream successful, he started to approach the new talented boys across Bansberia. After few refusal, he succeeded in gathering some youths and started his theatrical journey which later got a huge fame and name. Today's Brischick is his dream.
Why he wanted to make a theater group is a mystery but his dedication and love for Theatre was something indescribable. He was a unique Actor and a superb Director. His skills are yet to fade away from audiences' mind.
Tapas Mukhopadhyay, the present director of the group was his best student. According to Tapas Mukhopadhyay, Dilip Mukhopadhyay is a man who has devoted himself for Theatre and Brischick.
ONE-ACT PLAYS UNDER HIS DIRECTION
Dianasorous    ——- (1975, Dramatist- Samar Dutta)

Sari Sari Panchil —- (1977, Dramatist- Basanta Bhattacharya )

Kritodas ————– (1978, Dramatist- Ratan Ghosh)
FULL LENGTH PLAYS UNDER HIS DIRECTION
Samrater Mrittu —- (1976, Dramatist- Sachin Bhattacharaya )

Bhor Hoye Elo   —– (1977, Dramatist- Sosim Ganguly)

Sokaler Jonno   —– (1978, Dramatist- Ratan Ghosh)
---